As busy as we all are, it's no wonder that destinations delivering everything and the kitchen sink are so popular. These days, time is simply too precious to waste on hunting and gathering. So as you work on moving your Salesforce org to Lightning Experience, wouldn't it be great if there was a one-stop shop for the transition process?
Well, great news, everyone! We revamped the old Migration Assistant to put all the transition tools, resources, and help that you need in a single place. And we wrapped everything up in a set of checklists that guide you through the process and keep you organized and on track.
Meet the Lightning Experience Transition Assistant
The Transition Assistant is available in Setup, from the same place where you used to access the Migration Assistant. Let's take a look around.
Based on our experiences and those of the thousands of Salesforce customers who've already made the move to Lightning Experience, we identified a set of recommended steps and best practices for completing a successful transition. For easier manageability, we broke up the steps into three phases. Let's dive into each one.
Start Your Transition in the Discover Phase
Kick off your transition with a discovery period. Take some time to learn what's possible with Salesforce Lightning and how the power of the platform, ecosystem, and new user experience can help transform your business and drive better productivity. This is also the point where you should evaluate any tweaks you'll need to make for your org's customizations and user profiles, and calculate the effort to get everything ready for Lightning Experience.
When the technical issues and your business goals for the transition are clear, you can plan your Lightning Experience roll out — including the priorities you'll focus on, how you'll move users (in groups over time or all at once), and how you'll manage the coming change. To wrap up this phase, align with key stakeholders on the case for moving to Lightning Experience and get the green light on your rollout plan.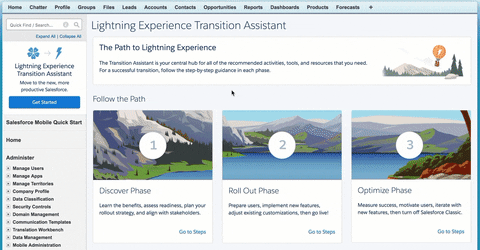 The Transition Assistant walks you through each of these stages and speeds up the process with tools like the Readiness Check for getting an analysis of your org's readiness for Lightning Experience, and the Change Management Hub for managing the human aspect of the transition.
Get Rolling in the Roll Out Phase
When it's time to push up your sleeves and prepare your org and users for Lightning Experience, head to the Roll Out phase. The Transition Assistant helps you implement key Lightning Experience features for an optimal, productive user experience. While most of your org's existing customizations work as-is in Lightning Experience, you may need to adjust some of the things called out by the Readiness Check. The Transition Assistant provides tools that automate and speed up this work, including the Configuration Converter and the Magic Mover for Notes and Attachments.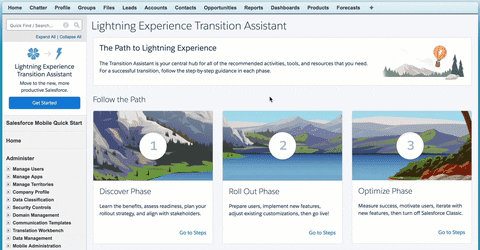 When your org is all shiny and ready for your launch, set up users so they can access the new interface. Then go live by turning on Lightning Experience! (You might want to celebrate the occasion with a kickoff party but we're sorry to say the Transition Assistant doesn't have a party planning tool…yet.)
Make It Stick During the Optimize Phase
Being an #AwesomeAdmin, you know that the transition doesn't end when you turn on Lightning Experience. Busy users aren't always eager for change, so you'll want to keep an eye on adoption rates. The Optimize phase is loaded with tools to help.
Measure how things are going with the Lightning Usage App and use the Change Management Hub to collect feedback on what's working and what's not. The Transition Assistant also has a variety of mechanisms to help motivate users to work in Lightning Experience, including an option to automatically switch users out of Salesforce Classic on a weekly or daily basis.
Iterate on your rollout plan by adding new use cases and addressing feedback from Lightning Experience users. We also recommend running Salesforce Optimizer to find ways to improve your org, such as deleting fields and other items that aren't being used and improving workflow and performance. If you still have teams working in Salesforce Classic, this is a good time to start the rollout process for the next group of users.
And when you're ready to stop supporting two interfaces and call the transition done, there's a button for that! Head to the Optimize phase and officially turn off Salesforce Classic for your org.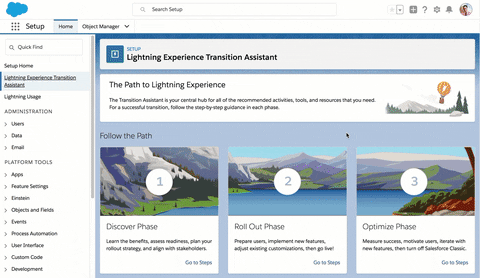 Track Your Progress
Yes, the Transition Assistant is your one-stop shop for finding and acting on recommended transition steps. But it also lives up to the 'assistant' part of its name by helping you keep track of the work you've completed and what your next steps are.
Each stage is a checklist that marks off the actions you take (1) and shows when you've finished everything in a stage (2).

With the Transition Assistant at your back, you have everything you need to drive a smooth transition where nothing important is overlooked. Remember that Salesforce is turning on Lightning Experience for all orgs in the Winter '20 release. So get started now and take control of the process!
Resources:
Meet the Lightning Experience Transition Assistant